I'm proud to announce that I helped paint the Never Look Away mural, Portland's first LGBTQ+ community mural. Contributing to this artwork gave me an opportunity to reflect on and honor those who have helped pave the way for all of us in the LGBTQ+ community. I hope that this mural will be an opportunity to celebrate our belonging, pride, and resilience. 
My fellow rockstars are: Cassandra Swan, Lead Designer/Painter/Associate Producer; Kyra Watkins, Portrait Painter; Nafsi Tarot, Painter; Naomi Likayi, Painter; Zoe Piliafas, Executive Producer; Ruban Lawrence, Producer. 
Special thanks to these sponsors and partners: Pride Northwest, Portland Street Art Alliance, RACC, Miller Paint, and Star Rentals. 
"Never Look Away celebrates the beauty and struggle of queer people, declaring that queer people are here to stay, because we have always been here. Creation and resistance have been sisters throughout history. We must create what we want in the world alongside resisting that which others people and leaves them vulnerable to anger and violence." -Mural Production Team
Illustrated in the mural (from L to R) are: Marsha P. Johnson, Kathleen Saadat, Rupert Kinnard, Lynn Nakamoto, David Martinez, Angelica Ross, Asa Wright, and Aydian Dowling.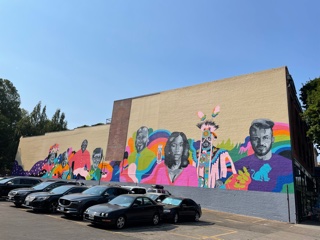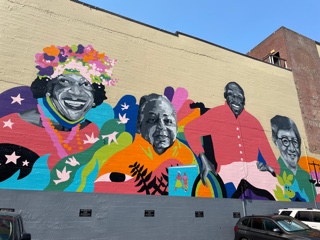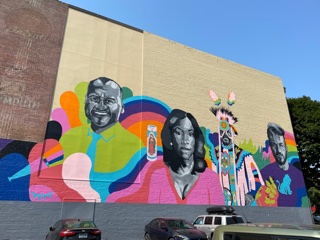 Check it out!: DeSoto Building, 720 NW Davis St., Portland, OR (seen here from the parking lot at the corner of NW Broadway & NW Couch).