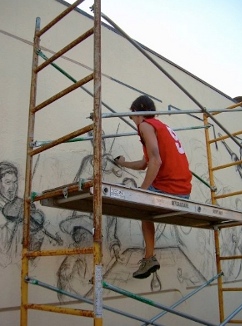 "Can I get a pulse?" started out as an outburst from my mom after a narrowly avoided traffic accident. I adapted this phrase for my business name because it captures my art philosophy and serves as my own personal challenge to constantly be more awake to the world.
I grew up in a northeastern Massachusetts household with lots of creative energy. I was raised by a painter mother and chef father, alongside two sisters who are involved in visual and theater arts. I earned a B.F.A. in Sculpture and minor in Art History from Boston University's College of Fine Arts. I represented artists from all over New England at BU's innovative installation art alumni gallery and at Hyperbole Gallery in Newburyport, MA.
After uprooting to the West Coast for a seasonal job on Puget Sound, I got the travel bug and wanderlust has never left my system. Although my training was highly focused on the human figure, place has special significance to me. I have lived and worked in many shockingly beautiful places, including The Adirondacks of upstate NY, the Florida Everglades, Alaska's Kenai Peninsula, the Big Island of Hawaii, the Grand Canyon, Glacier Park, Montana, northern New Mexico, and Portland, Oregon. The mental landscapes I carry with me from each place inform my work to this day.
Once settled in Portland, I co-managed the Commercial Division of the largest picture framing retailer in the Pacific Northwest, where I represented the original and limited edition work of many Portland and Seattle artists and offered art and design consultation to interior planners. 
I recently managed the Commercial Division of an art & framing company, where I facilitated many different creative projects across a variety of spaces, and I currently partner with leaders in the industry to continue this work. Another focus of mine is art found in the public sphere. I am intrigued by the socially engaging and interactive nature of public art, and I work as a muralist whenever an opportunity arises. I really enjoy listening to people's stories, and I love the thrill of bringing them to life visually. I am always open to new ideas and projects!
When not studying floor plans or balancing with a palette and paintbrushes up on scaffolding, I play striker for several different indoor and outdoor women's soccer teams. In 2013, I had the opportunity to travel to Italy with my club team to compete in the World Master's Games, where we took home the gold medal.
I also enjoy hopping around to literary, film, music, and dance events, wandering through moss and ferns, kayaking, camping, and making a beeline to the ocean whenever possible. Oh, and I'm forever coming up with schemes to join creative forces with my twin sister and collaborate on a mural if we ever find ourselves living in the same city at the same time (she's a painter and writer in San Francisco).